Advisory: Salt Lake Area Mountains
Greg Gagne
Tuesday - April 17, 2018 - 7:06pm
Bottom Line
Tuesday's 10-15" of low-density storm snow will be easily transported by the west/northwest winds, created pockets of wind slabs along the upper elevation ridgelines. These drifts will generally be found on slopes with an easterly component, although cross-loading on all aspects is possible.
Sunshine and warming temperatures on Wednesday and Thursday will create wet loose avalanches on aspects facing east through south through west, as well as north aspects at low and mid elevations. North aspects at the upper elevations should initially be spared from the warming, but warm temperatures and increasing clouds on Thursday may create greenhousing where upper elevation north aspects may also become wet.
The ice crust under Tuesday's snow may be a greater hazard in steep terrain by creating "slide-for-life" conditions.
Regular avalanche forecasts with avalanche danger ratings have ended. We will issue intermittent updates for the Salt Lake mountains through the end of April everytime it snows. We will continue to post all observations so please keep sending those in.
Special Announcement
Ski areas are closing and each has a different uphill travel policy. Remember that areas open to uphill travel are no longer doing any avalanche mitigation work and must be treated as backcountry terrain.
Alta Ski Area is closed to uphill travel. They will be operating for the next few weekends.
Current Conditions
Following a cold front that arrived on Monday evening, snowfall began during the early hours of Tuesday morning, continuing through the early afternoon.
As of 6 pm Tuesday evening, storm totals include:
> Upper Little Cottonwood Canyon 15" snow with 1" water.
> Brighton (Big Cottonwood Canyon) 9" snow with 0.61" water.
Winds have been out of the west/northwest, gusting in the 20's and 30's mph at the upper elevations, with 11,000' gusts in the 50's mph.
A full list of mountain weather stations can be found HERE. A daily discussion about mountain weather can be found HERE.
Watch this video about things to watch for in the spring.
Recent Activity
The old snow surface froze solidly (as well as forming a dust layer from the strong pre-frontal winds on Monday) prior to the onset of snowfall, and the storm snow did not bond well to this crust. Observers from Tuesday reported sensitive soft slabs and wind drifts at the upper elevations, especially during periods of heavy precipitation intensity.
A wind slab avalanche on an east aspect in Cardiff Fork (Mark White photo) where you can see the storm snow on top of temperature dust/crust.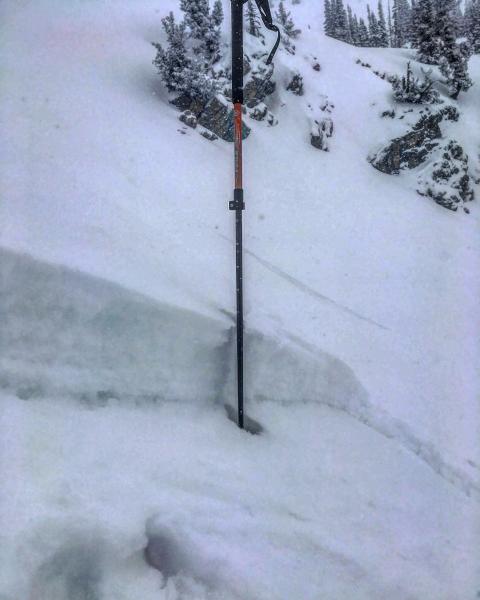 A soft-slab slide on a northeast aspect in Upper Days Fork:
Cornices that formed from the west/northwest winds were also sensitive along upper elevation ridge lines.
We will continue to post all observations, so please keep sending those in.
Mountain Weather
Tuesday Night - Clearing skies with temperatures in the teens. West/northwest winds gusting into the 20's and 30's, and decreasing overnight.
Wednesday - Sunshine with temperatures warming into the 30's and low 40's. Westerly winds generally light, switching to the southwest later in the day.
Thursday/Friday - Increasing clouds with winds out of the southwest. Continued mild with temperatures in the 30's and 40's. A chance of light snow possible Friday.
General Announcements
CLICK HERE FOR MORE GENERAL INFO AND FAQ
The UAC has new support programs with Outdoor Research and Darn Tough. Support the UAC through your daily shopping. When you shop at Smith's, or online at Outdoor Research, REI, Backcountry.com, Darn Tough, Patagonia, NRS, Amazon, eBay a portion of your purchase will be donated to the FUAC. See our Donate Page for more details on how you can support the UAC when you shop.
Benefit the Utah Avalanche Center when you buy or sell on eBay - set the Utah Avalanche Center as a favorite non-profit in your eBay account here and click on eBay gives when you buy or sell. You can choose to have your seller fees donated to the UAC, which doesn't cost you a penny
This information does not apply to developed ski areas or highways where avalanche control is normally done. This advisory is from the U.S.D.A. Forest Service, which is solely responsible for its content. This advisory describes general avalanche conditions and local variations always occur.