Advisory: Provo Area Mountains
Drew Hardesty
Thursday - February 22, 2018 - 7:29am
Bottom Line
Areas of CONSIDERABLE danger exist in localized terrain. The most pronounced danger for human triggered slides 1-3' deep will be on steep northwest to northeast facing slopes with the most recent snow and wind drifting. Cautious route finding is still recommended. If the southerly winds arrive ahead of schedule, watch for wind drifting in the higher elevations.
Special Announcement
We have discount lift tickets for Alta, Snowbird, Brighton, Solitude, Snowbasin, and Beaver Mountain. Details and order information here. All proceeds from these go towards paying for avalanche forecasting and education!
Current Conditions
Skies are partly cloudy with temps in the single digits and low teens. Winds are southerly at 10-15mph. Snowpack depths sit at 30-40" in the higher terrain and the Provo mountains sit at 35% of normal. Riding conditions remain quite good, if a touch slow.
Recent Activity
A few recent reports of avalanche activity from the last few days. These look to have stepped into old faceted snow. With the two in Big Springs, many of the details are educated guesses on my part. Thanks again for the reports; please send more details if possible: trigger, date of occurrence, location, etc. Thanks.
02/21/2018 Avalanche: Provo Provo region Andrew Bentz
02/19/2018 Avalanche: Big Springs Provo region Sterling Archer
02/19/2018 Avalanche: Big Springs Provo region Sterling Archer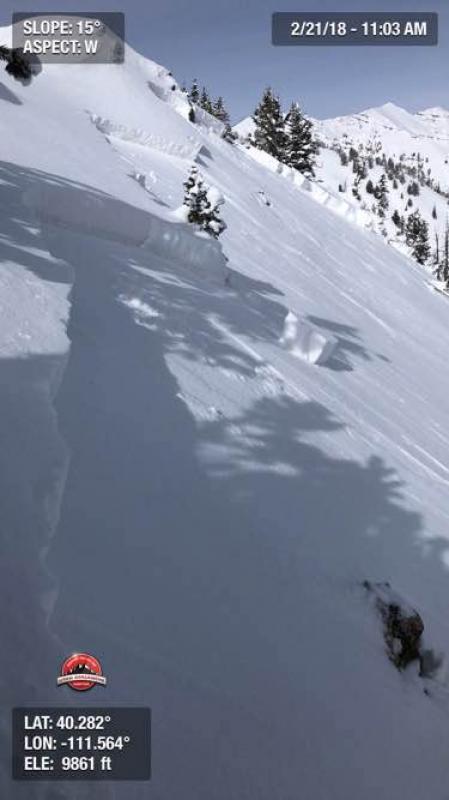 Avalanche Problem 2: Persistent Slab
Collapsing, cracking, and avalanches are sure signs of instability and avalanche conditions. Old weak snow has been stressed by additonal snow and wind over the past week, putting it on edge and waiting for a trigger. These are called persistent slabs for a reason: they don't heal overnight. These suspect avalanche conditions are most pronounced on steep northwest to northeast facing slopes, but not limited to them. Remember that these slides may be triggered from a distance and even from below.
Mountain Weather
We'll see increasing clouds with the first of many generally weak weather systems on tap for northern Utah. For today, winds will be from the south and southwest at 10-15mph. Temps will be in the upper single digits up high,the mid to upper teens down low. We're expecting a number of quick moving systems over the next several days. Tonight into tomorrow may produce 2-4" with another quick hitter later Saturday and again on Monday. Temps again drop well below zero along the ridgelines on Saturday. And we thought winter was down for the count. It ain't how you start, it's how you finish.
General Announcements
CLICK HERE FOR MORE GENERAL INFO AND FAQ
The UAC has new support programs with Outdoor Research and Darn Tough. Support the UAC through your daily shopping. When you shop at Smith's, or online at Outdoor Research, REI, Backcountry.com, Darn Tough, Patagonia, NRS, Amazon, eBay a portion of your purchase will be donated to the FUAC. See our Donate Page for more details on how you can support the UAC when you shop.
Benefit the Utah Avalanche Center when you buy or sell on eBay - set the Utah Avalanche Center as a favorite non-profit in your eBay account here and click on eBay gives when you buy or sell. You can choose to have your seller fees donated to the UAC, which doesn't cost you a penny
This information does not apply to developed ski areas or highways where avalanche control is normally done. This advisory is from the U.S.D.A. Forest Service, which is solely responsible for its content. This advisory describes general avalanche conditions and local variations always occur.