Advisory: Logan Area Mountains
Toby Weed
Wednesday - February 21, 2018 - 6:30am
Bottom Line
Heightened conditions exist on many slopes in the backcountry, and dangerous human triggered persistent slab avalanches are possible. There are areas with CONSIDERABLE danger on previously drifted upper elevation slopes.
Evaluate snow and terrain carefully, and make conservative decisions.
Avoid and stay out from under steep previously drifted slopes.
There is less danger in sheltered, lower angled, and lower elevation terrain.
---
I will update this advisory on Friday morning, 2/23/18
Current Conditions
Very nice deep powder riding and skiing conditions exist in the Logan Zone, but dangerous avalanche conditions exist on some steep previously drifted slopes.
The Tony Grove Snotel at 8400' reports -1°F and 72 inches of total snow, with 86% of normal SWE (or Snow Water Equivalent).
I'm reading -13°F at the UDOT Hwy 89 Logan Summit sheds, and east winds are lightly blowing 2 to 5 mph.
---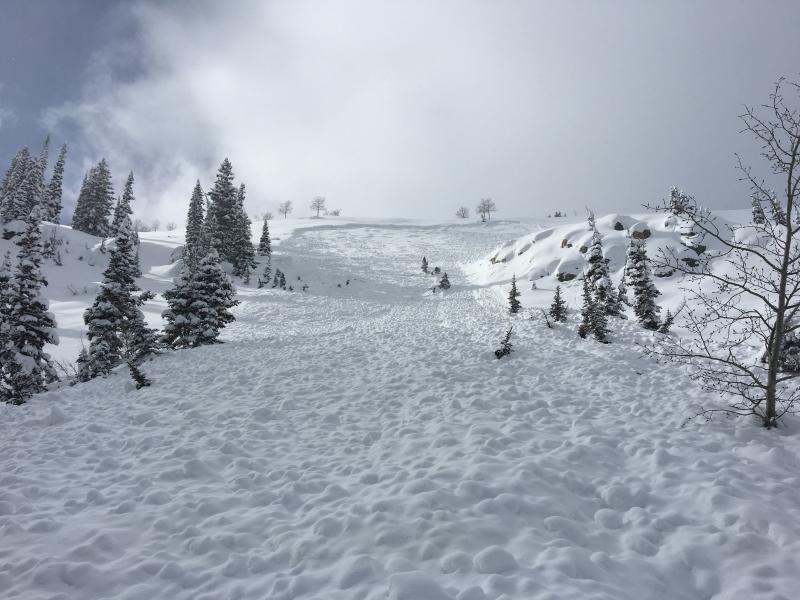 Riders remote triggered this persistent slab avalanche from the ridge above on Monday, 2/19
Recent Activity
A party of riders remote triggered a 300' wide avalanche from the ridge on an east facing slope at around 9000' in elevation near Gibson Basin on Monday. Nobody got caught, and the avalanche stepped down into old (faceted) layers.
With clearing yesterday evening, as I drove down canyon, I spied a large fresh crown from a natural avalanche in south Wood Camp.
There were a few smaller natural and sled triggered avalanches on Saturday, including this from an Instagram post.....View Post Here
Snowboarders unintentionally triggered, but escaped a slow moving soft slab avalanche in Miller Bowl above Tony Grove Lake Thursday, 2/15.
Avalanche Problem 1: Persistent Slab
Areas with dangerous persistent slab avalanche conditions exist in previously drifted terrain. Monday's large avalanche near Gibson Basin was triggered from a distance and stepped into old faceted snow.
Wind slabs formed last week on slopes with poor snow structure, and dangerous avalanches failing on persistent weak layers are possible.
Continue to avoid steep rocky slopes with shallow snow cover and poor snow structure.
Avalanches could be remote triggered, from a distance or below.
Cracking and collapsing or whumpfing are red flags indicating unstable snow.
Avoid ridge-top cornices, which often break further back than expected and can trigger avalanches on slopes below.
Mountain Weather
An active weather pattern will prevail through the next 7 days as a series of weather systems move through the region.
Today: A 20 percent chance of snow showers after 11am. Partly sunny and cold, with a high near 10. Wind chill values as low as -16. East southeast wind 7 to 9 mph becoming southwest in the afternoon.
Tonight: A 20 percent chance of snow showers. Mostly cloudy, with a low around 5. Wind chill values as low as -8. Southwest wind 6 to 8 mph becoming east southeast after midnight.
Thursday: A 40 percent chance of snow showers. Mostly cloudy, with a high near 15. Wind chill values as low as -6. East southeast wind 7 to 10 mph becoming south in the afternoon. New snow accumulation of 1 to 2 inches possible.
General Announcements
We have discount lift tickets for Alta, Snowbird, Brighton, Solitude, Snowbasin,and Beaver Mountain. Details and order information here. All proceeds from your purchase go towards paying for avalanche forecasting and education.
The UAC Marketplace is online. The holiday auction is closed, but our online marketplace still has deals on skis, packs, airbag packs, beacons, snowshoes, soft goods and much more.
The UAC has new support programs with Outdoor Research and Darn Tough. Support the UAC through your daily shopping. When you shop at Smith's, or online at Outdoor Research, REI, Backcountry.com, Darn Tough, Patagonia, NRS, Amazon, eBay a portion of your purchase will be donated to the FUAC. See our Donate Page for more details on how you can support the UAC when you shop.
Benefit the Utah Avalanche Center when you buy or sell on eBay - set the Utah Avalanche Center as a favorite non-profit in your eBay account here and click on eBay gives when you buy or sell. You can choose to have your seller fees donated to the UAC, which doesn't cost you a penny Check it out on ITunes, Stitcher, the UAC blog, or wherever you get your podcasts.
Now is a great time to practice companion rescue techniques with your backcountry partners. Here's our rescue practice video.
EMAIL ADVISORY: If you would like to get the daily advisory by email you will need to subscribe here.
Remember your information can save lives. If you see anything we should know about, please help us out by submitting snow and avalanche observations. You can also call us at 801-524-5304, email by clicking HERE, or include #utavy in your Instagram.
This advisory is from the U.S.D.A. Forest Service, which is solely responsible for its content. This advisory describes general avalanche conditions and local variations always occur.